Reweaving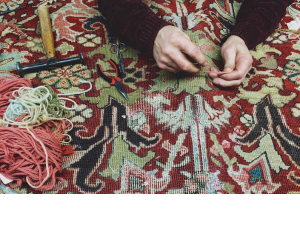 A small tear or minor unraveling in a rug can quickly go from almost unnoticeable to being quite destructive. We recommend that any tears or unraveled ends or edges should be repaired as soon as possible to prevent further damage. If you notice a spot on your rug that may need attention, contact us—we will evaluate the area and make recommendations for any work that needs to be done.
Our experienced team of artisans has a meticulous attention to detail to diligently weave new life back into rugs. Striving for a perfect match, we prepare the yarn needed for the rug with regard to texture, thread count, twist, color, material, and origin. From there, we create a rigorous weaving chart in order to precisely match the original design of the missing area. This is an extremely detailed process requiring quite a bit of patience, but by pouring so much time and effort into each reweaving process, we ensure that the rewoven or repaired area is indistinguishable from the rest of the rug.
The Island Rug Cleaners Difference
Based in Long Island and serving the entire tri-state area, we are committed to serving our customers' rug cleaning needs from start to finish. We carefully clean every rug by hand with organic, chemical-free soaps and ensure that each and every rug is cleaned precisely and thoroughly every time. Our family has 100 years of industry experience and we continuously strive to pave the way in the rug cleaning business. Contact us today for your free rug cleaning estimate!